Today ,we talk about the integrated wall.What about integrated walls? Well, let's go into it.
Integrated wall development so far.There are two main types:One material is made from alumal, soundproof foaming material and aluminum foil. Another is to take the bamboo fiber as the main materials, with high temperature extrusion molding. The integrated wall and ceiling panel is extrusted by formed WPC composite with natural bamboo composite and surface virgin PVC material.

It has following features:
1. Installing fast on wall and ceiling, 15 days to decorates a new room and live in next day.
2. The Environmental Friendly: Integrated wall through the national authority of detection. And does not contain formaldehyde and other toxic volatile substances. Environmental protection have passed the national standard and the EU standard certification.
3. Health Protection as no painting used, no glue used
4. Waterproof AMD moisture proof
5. Invisible gap between panels available
How are the wall panels made? Let us look at the production process.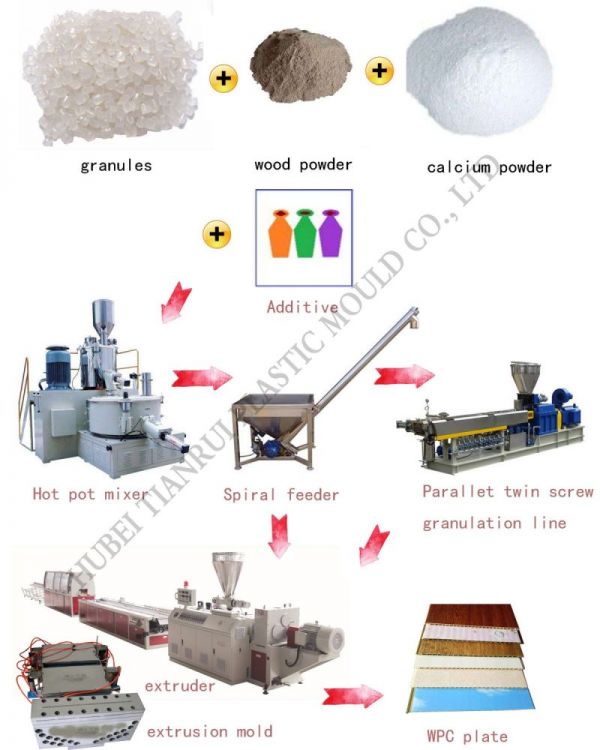 1. Ingredients:First, according to the proportion of product formulations weigh the polymer resin powder, wood flour and other processing aids.
2. Second, Mixing up the materials and then transporting it to the extruder.
3. The extruder Squeezes the mixture into the mold(Tianrui Mold).
Next time we will introduce the extrusion equipment to you. Welcome to provide comments or suggestions.