Factors Affecting of the Quality of PVC Extruded Profiles
2017-10-24
1. Raw materials and formula
The design and optimization of raw materials and formulations effect directly the stable production and quality of profiles, and they are one of the key factors to the quality of the products. For example, PVC is a heat-sensitive material, the decomposition temperature is low, so that it should add stabilizer in the formula. In order to improve the strength and ensure the quality of the material, we should add impact modifier. The quality of raw materials , fillers and additives is also essential .Otherwise even if the design of formula is ideal, it is difficult to ensure product quality.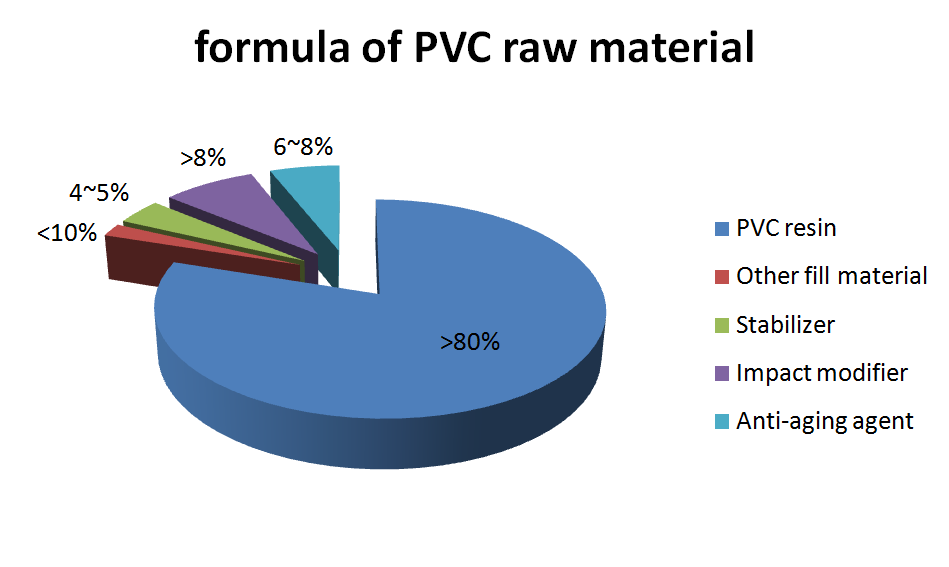 Formula of PVC raw material
2. Equipment and molds
The equipments include mixing machine, extruder and auxiliary equipments, and the molds contain the die head and calibration sleeve/calibrator. The main instrument is testing equipment which includes an oven, heat distortion temperature tester, rheometer, rally machine etc. They can control the quality of the products . Advanced efficient precision extrusion equipment can greatly guarantee the quality of the profile and have a significant impact on its external and intrinsic quality (surface, size deviation, physical and mechanical properties). Equipment parameters should be stable, convenient for control and accurate to meet the production technical parameters.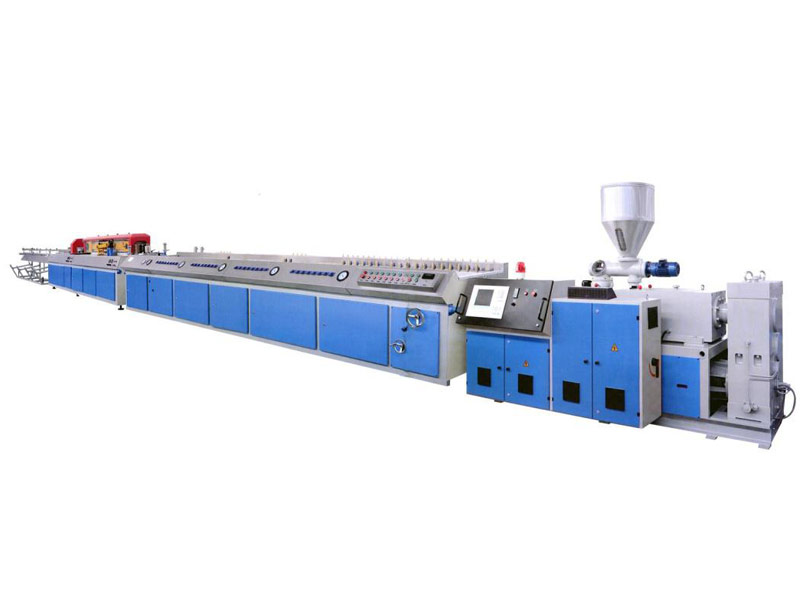 3. Structural section
To prevent material accumulation and avoid sudden wall thickness changing, the section design must not be complicated. And the design should reduce the inner ribs, maintain the symmetry of cross-section as much as possible. Generally, you should choose molds from the manufacturers who are formal, first-class technology, quality assurance. Hubei TianRui Plastic Mould Co., Ltd is one of the earliest manufacturers and developers that specialize in plastic profile extrusion mould. In addition, you should pay attention to conservation When the molds are in use. Molds need to be cleaned regularly, especially for the waterways, to be ensured smoothly.
4. Production Process
The production process includes processing procedures, temperature, speed, process parameters, methods of operation. The process is the leading factor in solving quality problems When the formula design, equipment, mold and instrument are reasonable. During the production, we need to control each process and each step's temperature, speed, pressure, which are to ensure the stability of the profile.